Traveling to Minorca at any time during the year is synonymous with calm and quietness. But in winter, when Minorca remains out of the international touristic tour operators, is the season when Minorca shows all its beauty as its best. Christmas holidays are a perfect excuse to discover the history of the island, uncountable idyllic beaches which take most of the Mediterranean touristic catalogues, a rich gastronomy, and for the most experienced sailors, a great opportunity to enjoy a perfect sailing conditions.

Photo: Cala Fustam and Cala Escorxada, Menorca
After the autumn rains, Minorca countryside experiences an eruption of life dominated by green colors. The fair Mediterranean weather makes the trees starting to flower coming ahead the spring, and the Sun is warm enough to let you sit in a terrace to read the newspaper in short-sleeve shirts, as long as the wind allows to do this. Winter is when the famous "Tramontana" wind hits the north shore of the island. But hence one of the great advantages of Minorca: The fact of being nearly a rectangular island makes a difference between north and south from a maritime meteorological point of view. And while we can find big waves in the north shore, you can sail in flat and crystal clear waters in the south coast of the island. It is like if it was a magnificent natural swimming pool where you can find lonely anchorages just for you and your friends. Back to the marinas there are no mooring constraints either, and mooring prices are more than 50% cheaper than in August for example.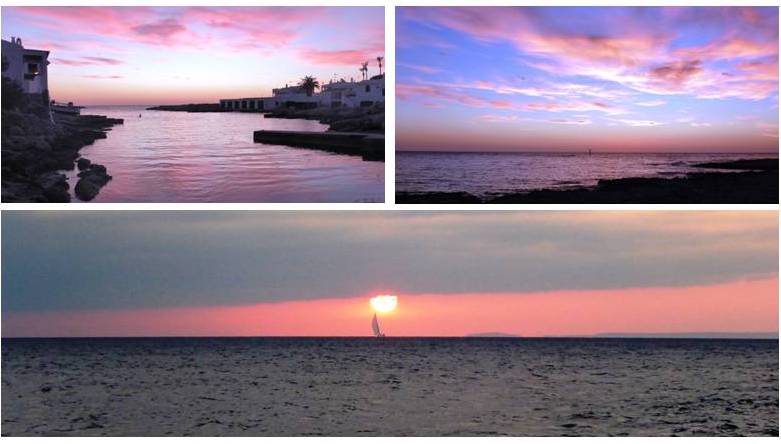 Photo: Sunsets in Cala Biniancolla (up left), En caragol (up. right) and in front of the coast of Binisafua
In addition to sailing, new year´s eve brings you a good opportunity to do some shopping, have a good taste of the gastronomy of the island, go walking or cycling through the "Cami de cavalls" all around the island, and also to visit some of the dozens of archeological sites settled along the island which have been nominated to became "Human cultural heritage". The "talayots" are watchtowers built of stone in the 4th and 5th centuries before Christ, and used to be built close to human settlements.

Photo: Talaiot de ses bigues de mata, Es Migjorn - Menorca.
There is no way to get bored in Christmas in Menorca, see you next New Year´s Eve!
Did you like the post? Follow our Facebook profile and like us
Did you like the photos? Follow us in Instagram